Bampton to Tiverton Road Race
Unfortunately the 2020 Bampton to Tiverton road race, which was postponed until October, has been cancelled.
Potentially, we would have to provide more buses due to social distancing guidelines still being in place, along with an anticipated reduced field size due to a hectic racing period with other postponed races, it wouldn't be financially viable to hold the race. We've made the decision now before any financial commitments for this years race have been made. I hope you understand our decision.
We will be back on the second May bank holiday Monday in 2021. Hope to see you then.
Race Information
The scenic route follows country roads with views of the Exe valley from Bampton to Bolham where runners climb the steepest hill of the course. Runners pass the front lodge of Knightshayes Court then cross the bridge over the North Devon Link Road. The race finishes in Peoples' Park, Tiverton which overlooks Tiverton Town Football club and is above Exe Valley Leisure Centre.
The race has an entry limit of 250, so make sure that you enter early to avoid disappointment. All race numbers are to be collected from Race HQ on the day from 8.45am. Entries on the day will also be available from this time subject to the race entry limit not being reached (there is an additional £3 fee for on the day entries).
Race HQ is at Tiverton Town Football Club, Bolham Road, Tiverton, EX16 6SG. There is free car parking at the football club and changing facilities and showers are also available.
From Tiverton Football Club you'll catch a free bus to take you to the start at the White Horse in Bampton where the race will begin at 10.30am. Please ensure you arrive early to register in order to allow enough time to travel to Bampton.
A supervised baggage area is located at the Tiverton Town Football Club. Each runner will be issued with a bag with their race number on it so that they can wear their tracksuit to the start. A baggage bus will return these bags to the Tiverton Town Football Club where they will be removed and stored in the baggage area, from where they can be collected after the race.
Prizes
Presentations will take place in the football club after the race with the following prizes available;
VOUCHERS AWARDED TO:
1ST MALE & 1ST FEMALE £50.00.
2ND MALE & 2ND FEMALE £25.00.
3RD MALE & 3RD FEMALE £15.00
£100 PRIZE FOR BREAKING THE CURRENT COURSE RECORDS:
MALE – 34.22 AND FEMALE – 39.19
Childrens' Fun Run
There is also a children's fun run which is held in the Peoples' Park (where the road race finishes) from approximately 10.00am which can be entered on the day (£4 entry fee). This is approximately 1 mile long and is open to children of all ages (toddlers included but must be accompanied by an adult). This race is not timed but there are medals for all who take part.
Sponsor

The Whitewater Clinic are proud to be sponsoring the Tiverton Harriers Bampton to Tiverton Race 2020! As part of our support for the club we will be offering vouchers for treatments at the clinic to all runners, found in your goody bag! We will also be available at the football club throughout the morning of race day, so if you have questions about any niggles or would like to know more about the services we offer, please come and have a chat!
Race History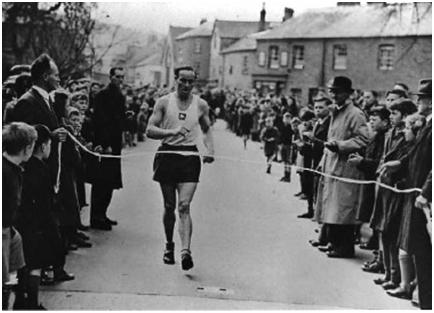 The first Bampton to Tiverton Road Race was held on 22nd April 1946 with 27 competitors. It was won by John Harvey from Tiverton in a time of 42 minutes 19 seconds. The 7-mile race has been held virtually every year since then. 2016 marked the 70th anniversary of the race.